10Mbps UltraWideBand FM Radio on 6cm (5.7 GHz) - S53MV
Schematics and layouts about 5.7GHz FM radio will be shown.

This radio transmit with 35mW (+15dBm) output power, and together with its simplified RF frontend permit to established 10 Km links, using small 20dBi horn antennas, or 100km usign 30dBi 85cm dish antennas.
Due to its simplicity and absolutely non-critical FM demodulator, it is very suitable to be installed on the antenna focus: no matter about temperature drift.

You can use this radio with 10Mbps TNC, described at http://www.ir3ip.net/s53mv/tnc10mbps.

All images below can be enlarged just clicking on them.

Also, you can hear my relation, in MP3 format, about 10Mbps TNC and 5.7GHz UWBFM radio.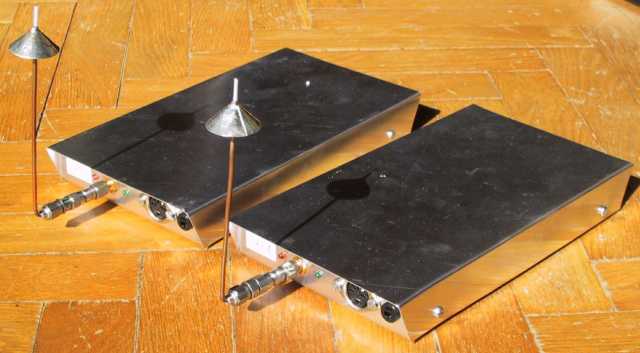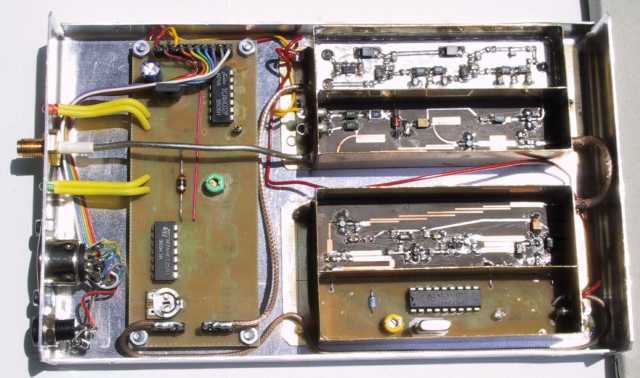 Error opening counter file!
\n"); exit -1; } $filename="/home/www/logs/$counterfile"; if (!file_exists($filename)) { $counter=0; $fd=fopen($filename,"w+"); } else { $fd=fopen($filename,"r+"); $buffer=fread($fd,8); sscanf($buffer,"%d",$counter); } $counter++; if (isset($REMOTE_ADDR) && $REMOTE_ADDR!='217.168.237.106') { fseek($fd,0,SEEK_SET); $buffer=sprintf("%08d",$counter); fwrite($fd,$buffer,8); } fclose($fd); $cyear=0; if (strlen($counterdate)==8 || is_long($counterdate)) { $cyear=intval(substr($counterdate,0,4)); $cmonth=intval(substr($counterdate,4,2)); $cday=intval(substr($counterdate,6,2)); if ($cmonth<1 || $cmonth>12 || $cday<1 || $cday>31) $cyear=0; //error } whichlang(); /* write results in the specified language */ if ($lang=="en") { print("

This page was accessed $counter times"); if ($cyear>0) printf(" since %s %d, %d", $month_en[$cmonth-1], $cday,$cyear); printf("
\nLast update on %s


\n",date("r",filemtime($SCRIPT_FILENAME))); return; } else if ($lang=="it") { print("

Pagina visitata $counter volte"); if ($cyear) printf(" dal %d %s %d",$cday,$month_it[$cmonth-1],$cyear); print("
\nUltimo aggiornamento il ".date("d/m/Y",filemtime($SCRIPT_FILENAME))." alle ore ".date("H:i:s",filemtime($SCRIPT_FILENAME))."


\n"); return; } } function addirc($channel) { global $lang; whichlang(); print('

'); print('

'); } ?>